Support for Thriving Businesses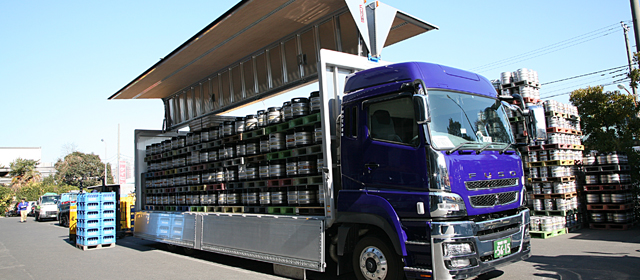 Nihon Sake Net, which supports ENOMOTO LIQUORS CO.,LTD's distribution in the Tokyo metropolitan area, is characterized by its rapid inventory cycle. For instance, the inventory time for draft beer is two days on average. We deliver factory-fresh draft beer to restaurant, food, and beverage businesses.
As for national restaurant chains, labor effectiveness and costs significantly vary depending on the alcoholic beverage retailer with which that they have a contract. ENOMOTO LIQUORS CO.,LTD has established its own distribution network to achieve speedy distribution across Japan.
Please contact us at ENOMOTO LIQUORS CO.,LTD if you wish to serve tasty draft beer to your customers or integrate suppliers for lean management.
Nihon Sake Net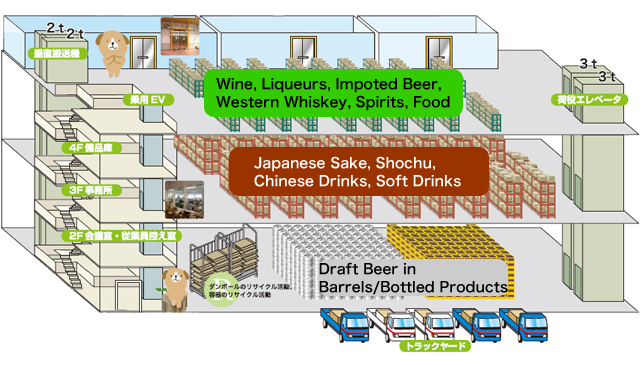 Nihon Sake Net is a distribution company established in Odaiba by ENOMOTO LIQUORS CO.,LTD through the integration of three bases. A five-story warehouse has been built on approximately 2,000-tsubo (6,600 square meters ) of land from which merchandise is delivered to clients in Tokyo, Kanagawa, Chiba and Saitama using around 100 delivery trucks.
Nihon Sake Net has a computer management system by means of which orders received by 5:30 am can be delivered the same day. Merchandise is controlled in the optimum temperature (beer/unpasteurized sake : ≈ 5ºC, wine: ≈ 15ºC) according to the type of alcohol beverage to keep the freshness, which maintains delectability and flavor.
DAN System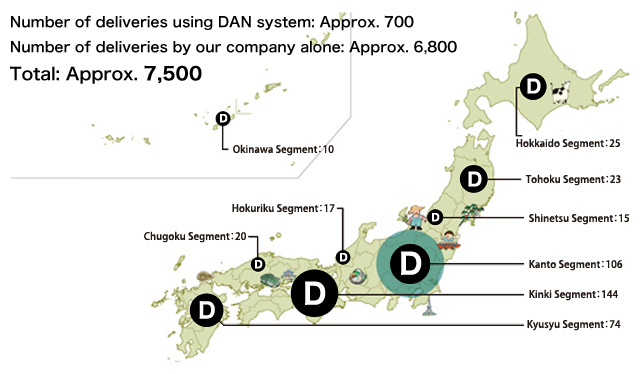 DAN System is a distribution network system formed in cooperation with 54 partner corporations that are located in areas ranging from Kyushu to Hokkaido. ENOMOTO LIQUORS CO.,LTD receives orders from restaurant, food, and beverage businesses across Japan as a single point of contact. ENOMOTO LIQUORS CO.,LTD then contacts the partner corporation that is closest to the delivery address to speedily deliver merchandise from it.
Note: DAN System = Delivery Agent Network System