Concept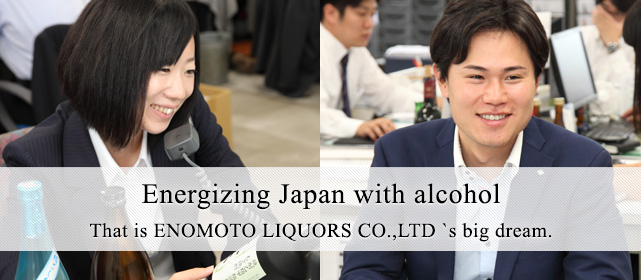 Alcoholic beverages possess the magical power to energize people.
Together with our customers, ENOMOTO LIQUORS CO.,LTD strives to be a company that electrifies the alcoholic beverage retail industry to vitalize the restaurant, food and beverage industries as well as energize Japan.
In order to someday achieve this big dream —
ENOMOTO LIQUORS CO.,LTD provides full support to people who run businesses involving the sale of alcoholic beverages.
We sincerely hope that the drinks we deliver will bring blissful moments to people's lives.
From the ordinary to the hard-to-find
Specialty is surely becoming a trend in this business.
Recently, more and more specialty stores stock shochu from across Japan, while bars and izakaya taverns sell hard-to-find drinks as a key product. The range and depth of products that alcoholic beverage retailers sell vary.
If you are particular about your drinks, you should choose the right retailer. ENOMOTO LIQUORS CO.,LTD is a professional in the alcoholic beverage business with a history dating back more than 75 years. Please feel free to consult with us about anything related to alcohol. Through our uniquely developed supply network, we have a system in place to provide local sake from across Japan in addition to hitherto undiscovered premium quality drinks from around the world as well as products from major manufacturers.
UNIDIS

UNIDIS, UNIversal DIStributor, is the slogan proudly proclaimed by ENOMOTO LIQUORS CO.,LTD. This slogan reflects our hope to be a company that can provide everything needed to help restaurant, food, and beverage businesses flourish, from sales of products such as alcohol, store fixtures, equipment, and ingredients, through to firsthand information including successful and unsuccessful store management examples. At ENOMOTO LIQUORS CO.,LTD we work together with other companies in various fields to turn this slogan into a reality.