Job Informaion
Messages from Our Employees
A Top-Class Company That Leads the Industry
Aggressively suggesting products and ideas—the driving force behind business expansion and growth.
Managing Director/Sales Department Chief
Yasuyuki Enomoto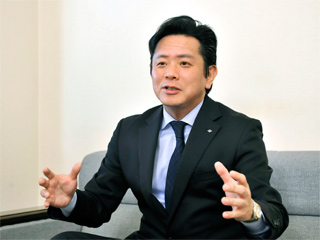 We started our company as a distributor that distributes alcoholic beverages to retailers, but we have grown the size of the business and the quality of our services to become a retailer for businesses in step with changing times and customer needs. I firmly believe what has made us so successful is our aggressive corporate culture of "let's do anything that is necessary or effective."
The first step in our growth was to establish a distribution system. We cooperated with four other companies in the industry to establish our own distribution system called Nihon Sake Net. The distribution of alcoholic beverages is an extremely complicated and vast undertaking. Merchandise must be delivered individually—not in bulk—to food and beverage businesses. Our company has established an exceptionally high-quality distribution system through the expansion of our facilities and training of our distribution staff.
Our company's sales activity does not end at "delivering what was ordered." We are always ready to suggest something such as menus based on how we foresee trends as well as food to pair with alcoholic beverages. Thanks to that, our alcoholic beverages supply share for major hotel chains is extremely high.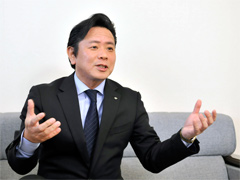 In addition, we have numerous sales employees who are relied upon by famous restaurants in all genres of cuisines. One employee received the compliment, "we get so excited whenever you come" from a client. Our sales staff constantly consider what they should suggest in order to please their clients and act accordingly.
Our regularly held events—in which we have a lineup of booths of alcoholic beverage manufacturers and invite restaurant owners to suggest new drink menus—are indicative of our stance. At an event held last year at a landmark building in Shibuya, we invited a renowned bartender to conduct cocktail-making lessons. This drew a positive response from both manufacturers and restaurant owners.
Our aggressive sales promotion has been well received and as a result our company ranks high in alcoholic beverage sales in Tokyo. However, it is true that there is still a gap between our company and the top-ranked company in the industry. With our belief of "aggressive suggestions" in mind, we will continue to suggest merchandise and services that will please our business clients as well as customers who visit our clients' restaurants.
Serving good food and beverages. A client's business flourishes. Trust is established. In the middle of such a cycle, there are connections between people.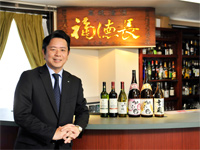 Suggesting good merchandise and services leads to prosperous business for the clients. For a restaurant housed inside a brand building in the heart of Tokyo, we suggested how to serve tasty beer that is suitable for the brand, resulting in their establishing a reputation for serving excellent beer.
The promotion of Beaujolais Nouveau is also one of our suggestions to trigger new demand for the product. Our company has a top-class domestic sales record for Beaujolais Nouveau.
In order to further promote their ability to offer suggestions, we encourage members of our sales team to acquire certificates and licenses. Our sales staff also have a high motivation to do so. By acquiring special skills and knowledge, our employees strive to enhance the quality of their suggestions and achieve services that provide satisfaction to our customers.
This industry is also characterized by warm connections between people. Our employees constantly polish their rich sense of humanity to be well accepted by customers.
—At a mock-up bar inside the company. Existence of old and new. That's what ENOMOTO LIQUORS CO.,LTD is all about—