Making Menus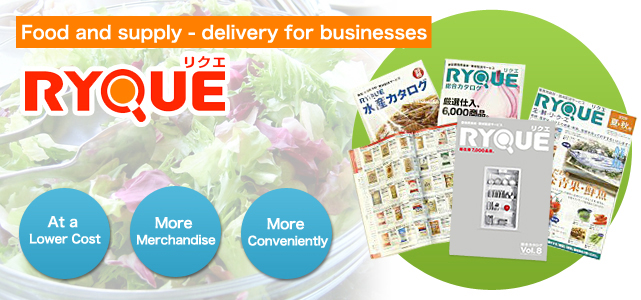 RYQUE is a distribution system for food and materials for businesses that was developed by ENOMOTO LIQUORS CO.,LTD and Ryoshoku, a general food wholesaler. It features products that were devised by an alcohol-related business professional and which are perfect for pairing with alcoholic beverages. Orders placed by phone or fax by 4:00 a.m. can be delivered on the same day. There is no enrollment, annual membership, delivery or catalogue fees, so you can enjoy our RYQUE service without initial cost.
Choose from Approximately 8,000 Products
We offer approximately 6,000 products ranging from fresh food, such as meat, fish, vegetables and fruits, to frozen food that is perfect for nibbling on with drinks.
We Will Accommodate Your Requests
Only RYQUE can flexibly accommodate your unique requests, such as for a soy sauce from a certain company. Consult with us about products and prices, and we will provide an estimate.
Try Products with Value-Priced Samples
Samples are available for half off the listed catalogue price (exclusions apply). Please feel free to contact us. We will send you our catalogue for free.
[Contact]
RYQUE Contact Center (Toll Free) 0120-064-564 (9:00 a.m.–6:00 p.m.)
Note: RYQUE is a membership-only service. You must be enrolled to use the service.
Note: We accept orders until 4:00 a.m.
Note: Delivery is generally made in person. Deliveries are available from 2:00 p.m. to 10:00 p.m.