Job Informaion
Applicant Guideline
Recruitment Information
The Qualities and Criteria We Seek in Our Employees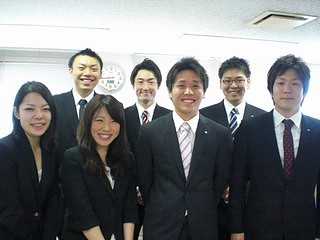 We expect our employees to possess the ability to cooperate successfully in the organization, to be able to focus on daily tasks continuously and sustainably, to handle multiple workloads, and to think on their own and suggest ideas. Above all, we value humility as the most important element for the growth of our employees. In consideration of this, we expect you to meet a broad spectrum of our employees from entry-level to mid-level to executive directors during the interview process.
During that process we hope that you will come to understand our corporate style and the character of our employees, and that you will choose to work for us and tell us about yourself in your own words.
If you feel like speaking directly with our employees, we will arrange an opportunity for you to meet them, and thus obtain a better understanding of our company.
We are looking forward to meeting applicants who are motivated and have vitality—regardless of their education or gender.
"Everything starts with a meeting. Let's meet!"
Applicant Guideline
Job Openings
●A regular full-time position with the prospect of promotion
Sales Department
Note: May be hired for other departments or transferred to another department after being hired.
Job Locations:
Tokyo Headquarters, Daiba Distribution Center, PRONT Shinjuku Branch, PRONT Yurakucho Denki Bldg. Branch, Di PUNTO Nakameguro Branch.
Work Hours
Sales Department: 9:30 a.m.–6:30 p.m. (7.5 working hours)
Note: Some department may be 9:00 a.m.–6:00 p.m. (8 working hours).
Note: Variable work hours available depending on the restaurant.
Note: Variable work hours available at Daiba Distribution Center.
Main Duties
★(Sales Department)
Introducing, selling and suggesting our alcoholic beverages, food products and restaurant fixtures to restaurant, food, and beverage businesses as well as developing new clients. However, we believe that the real merchandise we can offer is "consultation for the food and beverage businesses." Employees are not supposed to just sit and think, rather what they actually do day to day is important. They are expected to visit 10 to 15 clients per day on average to introduce new products, exchange market information, suggest trending merchandise, come up with menus, conclude new business negotiations or collect money. In other words, employees who work in the Sales Department at ENOMOTO LIQUORS CO.,LTD are expected to provide optimum advice and information, and serve a role as a "reliable business partner" for our clients in the food and beverage businesses so that they can increase their sales.
Hiring Procedure
and Schedule
Education and gender are excluded from consideration.
We would like you to understand us through a large number of interviews. We hire new employees based on their personality.
After all, your motivation is the most important element when making a hiring decision.
Please tell us about your desire and passion to work for us during the interviews.
Fill out the application form to start with.
If you would like to know more details, please call or e-mail the Human Resources Department.
Salary/Benefits
Salary:
Initial salary as of April 2022 for university/graduate school graduates:
244,000 yen/month
Allowances:
Dependent Allowance, Commuting Allowance, Compensatory Allowance, Sales Allowance, Lump-sum bonus for acquiring certificates (wine expert, etc.)
Overtime Pay (Administrative Department)
Pay Raise:
Once a year (April)
Bonuses:
Three times a year (April, July and December) Note: 2022 record. The bonus in April is paid depending on business performance*.
Holiday and Leave:
Five-day workweek system (Sunday, national holidays and three Saturdays a month), New Year's holiday (five days), summer vacation (four days), maternity leave, childcare leave, reduced working hours for childcare, paid vacation (10 days in the first year), special leave for weddings and funerals.
Insurances:
Full social insurances available: unemployment, labor, health and welfare annuity insurances
Benefits:
Full pension and retirement allowance systems available.
Company activities include a baseball team, soccer circle, futsal circle and mah-jongg circle. Company-rented apartments for single employees (studio type) are available mainly for those who work in the Sales Department. The company-rented apartment is selected to be within a walking distance from the company. Employees pay 20% of the total rent for the first and second year of the employment, and the payment is to be 30% for the third year, 40% for the fourth year, and 50% between the fifth and tenth year.
As for the company-rented apartment for married employees (if married after they started working for us), they pay 50% of the total rent from the first year if the employee is the head of the household.
Reference Data
Training System:
New employee training: Group training (10 days), on-the-job training, other overseas training, certificate acquisition support (wine expert, cocktail advisor, food coordinator, color coordinator, shochu advisor, sake sommelier, Grade 2/3 Official Business Skill Test in Book-keeping), management training and more.
College Departments:
College/graduate school students from all departments and courses from universities in Japan (excludes junior colleges and vocational schools)
Number Hired:
7 (joined in April 2023)
8 (joined in April 2022)
3 (joined in April 2021)
8 (joined in April 2020)
Documents to Be Submitted:
An A4-size resume (photo required/other-sized resume is unacceptable; however, a resume written on a college-designated form is acceptable.)
Before the final interview, please have ready a certificate of expected graduation and junior-year transcript, and a health checkup certificate of detailed medical tests (details to be informed separately).

Note: All submitted documents will be disposed of in a responsible and secure manner.
Please understand that submitted documents cannot be returned.
Number to Be Hired This Year:
8
Required Certificates:
Driver's License 1st grade (license restricted to automatic is acceptable).
We require you to have a driver's license before you join us without exception.
Please note that if you did not obtain a driver's license before joining us, your employment offer is subject to revocation.
Universities From Which Our Employees Graduated:
<Graduate school>
Hirosaki University
<University>
Aichi Shukutoku University, Asia University, Ibaraki University, Ehime University, J.F. Oberlin University, Otsuma Women's University, Kanagawa University, Kansai University, Kanto Gakuin University, Kanto Gakuen University, Kitasato University, Kyoto Sangyo University, Kyoritsu Women's Educational Institution, Keio University, Kokugakuin University, Komazawa University, Sagami Women's University, Shumei University, Josai University, Josai International University, Kagawa Nutrition University, Seigakuin University, Seikei University, Seijo University, Senshu University, Soka University, Daito Bunka University, Takasaki City University of Economics, Takachiho University, Takushoku University, Chiba Institute of Technology, Chiba University of Commerce, Chuo Gakuin University, Teikyo University, Tokai University, Tokyo Kasei University, Tokyo Keizai University, Tokyo University of Technology, Tokyo Institute of Technology, Tokyo City University, Tokyo University of Agriculture, Tokyo University of Social Welfare, Tokyo Fuji University, Toyo University, Tokoha University, Dokkyo University, Nihon University, Hirosaki University, Hiroshima University, Bunkyo University, Hosei University, Hokkaido University, Matsuyama University, Mukogawa Women's University, Musashi University, Meiji University, Meiji Gakuin University, Meisei University, Mejiro University, Momoyama Gakuin University (St. Andrew's University), Yokohama College of Commerce, Rikkyo University, Rissho University, Ryutsu Keizai University(Ibaraki), Waseda University
Contact:
1-22-20, Nishikamata, Ota-ku, Tokyo 144-0051
Human Resource/Iwasaki
03-3755-8111 (Rep.)